Super-Mystery Cult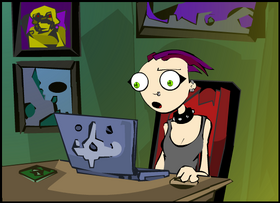 Cast
Cast
Germaine
Foamy
Production
Episode
1.22
Running time
1:08
Release date
2003
Producer(s)
Jonathan Ian Mathers
Writer(s)
Jonathan Ian Mathers
Animators(s)
Jonathan Ian Mathers
Chronology
Previous Episode
Meditational Melee
Next Episode
Foamy's Rant

It's not just a cult. It's a SUPER MYSTERY cult.
Germaine
Porn, porn, porn... porn... penis enlargement? Porn. Hey, look, I got an e-mail from someone who wants me to join a cult.
"Dear Germaine, we are proud to present you with the opportunity to be accepted into the Cyber-Satan Super-Mystery Cult. Please take the time to view our website for further details. We also have free literature available upon request.
PS. Satan knows where you live."
Hmm, that's a little weird.:
Foamy
You know what, I say you join the cult. I mean, what do you have to loose?
But your soul!
Germaine
I kinda like my soul.
Foamy
C'mon, where's your sense of adventure?
Germaine
I don't see the point in joining a mystery cult.
Foamy
Excuse me. Super-mystery cult. Not just some ordinary cult. It's a super cult. The Cyber-Satan Super-Mystery Cult.
Look at all the free stuff you get. Look, you get the Super Cyber-Satan Super-Mystery Cult mug. You get a shirt, you get a hat, an upside down cross, you get one of those pentagram things that glows in the dark. Totally cool. You know you want one.
Germaine
You joined the cult already, didn't you?
Foamy
Super cult. All hail the mighty John Frum**. Now where's my ice-cream and motorcycles, damn it!
Ending screen appears.
This is the first episode that ever mentions the Foamy Super Mystery Card Cult.
Community content is available under
CC-BY-SA
unless otherwise noted.