Small, Medium, Large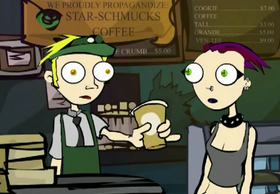 Cast
Cast
Foamy

Franklin Germaine

Production
Episode
2.02
Running time
2:50
Release date
2003
Producer(s)
Jonathan Ian Mathers
Writer(s)
Jonathan Ian Mathers
Animators(s)
Jonathan Ian Mathers
Chronology
Previous Episode
Squirrell Banter
Next Episode
Foamy Fan Mail IV

Publishers Summary
[
]
Foamy encounters the world of the trendy cup sizes.
Transcript
[
]
Germaine is waiting at the "Star-Schmucks" counter, there is a blonde guy at the counter, there is a banner which reads "We proudly propagandize: Star-Schmucks Coffee" there is also a menu which reads: Cookie $7.00 Coffee; Tall $3.00, Grande $5.00, Viente $9.00… this is irrelevant, more or less.
Franklin
Like Oh my God, welcome to Star-schmucks coffee houses! Ahhh my I take your order? Hello…!
Germaine
Ahh yes can I get a Viente white chocolate mocha thingy.
Foamy
I want a fucking Large Hazelnut Coffee not that other sucky taste you have… it's fucking nasty, spare me the under-taste!
Franklin
We don't have "Large"…. Bitch.
Foamy
Looking at Germaine
Ahh excuse me he did not just say he. "didn't have large?"
Germaine
Yeah he did.
Foamy
Well what the fuck does that mean? No Large, well what is there?
Germaine
No, you see they changed the names of the sizes for the cups of coffee.
Foamy
What does that mean!?
Germaine
Looook!.. see (grabs a cup) Small is now called "Tall" Medium is now "Grande" and Large is "Vien-tee."
Foamy
Vien-tee? What kind of Nazi speak is that? And how the fuck can a small cup of coffee be called tall!? Forgive my Squirrelly ignorance, but isn't "small" the opposite of "tall"?
Germaine
Ahh yeah, in the real world it is anyway.
Foamy
Oh I see what they're doing! They call "small" "tall" because it makes the customer feel good when they pay $3 for a urine sample sized cup of coffee swill! This way it seems like they are getting more because the word "tall" is stuck into their psyche. I see their psychological marketing trickery! You tricky bastards that's what you all are! Fucking tricky!
Germaine
(Rolls eyes)
Yeah, whatever.
Foamy
Ahhh don't give me that shit! When was the last time you went to "Taco-Hell" and ordered a taco "grande" and got a medium sized taco.
And Vien-tee isn't even a word! It's some fucking "hoighty toighty phrase used to make people feel more sophisticated when ordering a large coffee so when they part with the $5 for the coffee they don't feel like a fucking moron.
Germaine
Are you saying I'm not sophisticated?
Foamy
I'm saying you're fucking stupid!
Fuck this shit I can get a "tall" cup of coffee for 50c around the corner!
Franklin
But then you don't get the trendy Star-Schmucks coffee cup that you like carry around like a status symbol…. man.
Foamy
You can take a "vien-tee" razor and shove it up your ass, you tall-brained moron I hope you choke on a biscotti!
Ending screen appears.
External Links
[
]