Hypnotic Foamy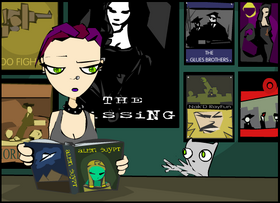 Cast
Cast
Germaine
Foamy
Production
Episode
1.14
Running time
0:57
Release date
2004
Producer(s)
Jonathan Ian Mathers
Writer(s)
Jonathan Ian Mathers
Animators(s)
Jonathan Ian Mathers
Chronology
Previous Episode
Foamy Fan Mail
Next Episode
5 More Minutes

Foamy becomes frustrated when his hypnotizing book doesn't work on Germaine.
Foamy
Hey I've been reading this book right, it's like "how to hypnotise people" and I think Ive completely and totally mastered it… right. So here's what I'm gonna do; I'm going to hypnotize you.
And I'll get you to do stuff, right.. watch, watch!
Foamy waves fingers at Germaine.
I am hypnotizing you!... I am hypnotizing you! You will be under my complete control! Because I am hypnotizing you. Woooo!!! Hypnotized you are now completely under my control. And you have been completely hypnotized Woooo!. Now you will give me all your money?
Germaine
Nope.
Foamy
Give me all your money! Germaine: Not gonna do it. Foamy: you are hypnotized and cannot resist.
Germaine
Nahuh.
Foamy
I hypnotised you!
Germaine
Nope.
Foamy
Come on! Please. Come on I really read the book this has gotta work.
Germaine
You're out of your mind. Foamy: huh.. huh… you give me your money… now!
Germaine
The Monies is mines.
Foamy
Ughh you know that fucking book lied to me.. this sucks! Fuck it man, hold on I'll be right back I'll just get a gun and hold you up at gun point it's a lot easier that way.
Ending screen appears.
This is the first episode where Germaine speaks.
Community content is available under
CC-BY-SA
unless otherwise noted.