Cast
Cast
Germaine

Foamy

Production
Episode
3.05
Running time
1:30
Release date
2005
Producer(s)
Jonathan Ian Mathers
Writer(s)
Jonathan Ian Mathers
Animators(s)
Jonathan Ian Mathers
Chronology
Previous Episode
A Pair of Pants
Next Episode
Foamy Fan Mail VII
Video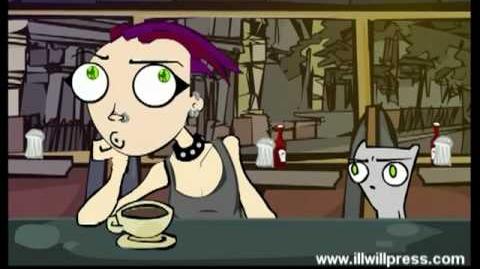 Publishers Summary
[
]
Foamy and Germaine discuss their biggest fear.
Script
[
]
Foamy
Hey what's your biggest fear?
Germanie
What's yours?
Foamy
I asked you first.
Germanie
Uhm.. I think my biggest fear is having the world blow up because idiotic polictions can't come to a simple agreement of leaving eachother alone.
Foamy
Jeeze... How typical of teenangs. BlAhg...
Germanie
Well what's yours?
Foamy
Exploding Teeth.
Germanie
What?!
Foamy
You know how stuff shrinks and expands when comes in contact with hot or cold.
Germanie
Yeah?
Foamy
My biggest fear is eating ice cream then drinking hot coffee and having my teeth explode due to the extreme change of temperature. Kinda like when you clean out a hot glass coffee pot with cold water sometimes they shatter.
Germanie
Get the fuck out of here.
Foamy
Seriously I knew a squirel that had hot coco and then ice coffe and all he's teeth blew up in he's head. Horrible!
Germanie
Teeth don't explode.
Foamy
Didn't you ever take a science class in that God awful school you go to?
Germanie
Yeah but we didn't cover exploding teeth 101.
Foamy
Nice! What a waste of tution. How are you going to get through life if you don't learn of the exploding teeth!? Huh!?
Germanine
It's not that important.
Foamy
Fine one day you'll be in a power meeting at some book publisher trying to get your lame poetry published when all of a sudden you'll have a sip of coffee and relize you are starting to get warm so you take a sip of ice water. And bam! Your teeth explode and there's blacken filling all over the board room. You'll see!
Germanie
I'm sure I will.
Foamy
Oh you will. YOU WILL! (Cough)
End screen appears.
External Links
[
]